This service can be provided to assist Piling Foremen to find the previously set-out pile positions on their sites. Sites can be problematic due to rain and site traffic, causing the pile position pegs to be covered over or disturbed by earthmoving machinery. Using this utility, distances can be computed between any two piles on the site. Any pile position can be determined by measuring the distance from the required position to any two or more other positions. In this manner, pile positions can be checked for disturbance, or merely use the distances from two or more other positions to find a buried position. Use either 2 x tape measures on one long tape measure. Consider searching for P34. Hold "0,00" at P31, "2,114" at P34 and "4,125" at P32, if using one tape measure. Alternatively, use two tape measures and measure from P31 and P32 to P34, at "2,114" and "2,011" respectfully. The Excel file can show either one distance at a time or the combined distances.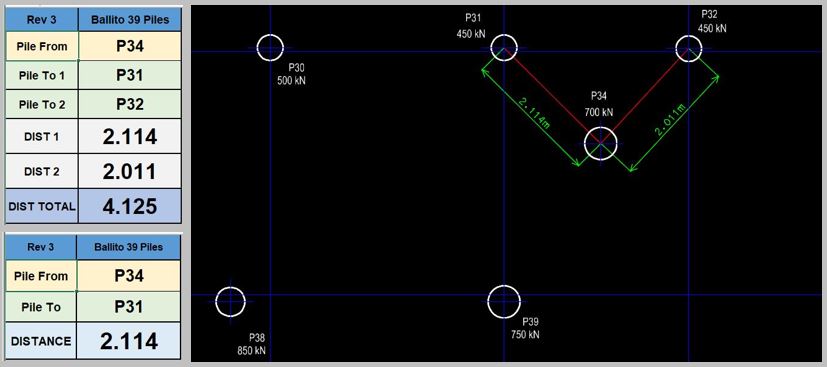 The format is Excel, which can be read on any Smartphone.
EG-PileFind.xlsx Contact via email for an example.

EG2Dist-PileFind.xlsx Contact via email for an example.